Shenzhen sailong carbon paddle Co., Ltd was established in the early of 1990s, covering an area of 12,000 square meters and located in Longgang Town , Shenzhen City . It is among the few large-scale Paddles,Carbon fiber Paddles,stand up paddle,Carbon fiber tubes,Carbon fiber products, and FRP manufactories in Guangdong Province .It is one of the members of Chinese Fiber Glass Industry Association and Chinese FRP Industry Association. It has advanced equipments and a solid technical force, with many technicians coming from Tsinghua University , Harbin Industrial University and South China University of Science and Technology. In 2003, its products passed the fireproofing testing of HK Fire Fighting Dept and got the certification of HK Safety Authentication Center to reach the safety standard of the legal products. It was greatly promoted in the third edition of Chinese Building Material Reports in August 11, 2003. In 2004, it got the authentication of ISO 9001:2000 Quality Management System and in the same year, its Carbon fiber paddles and FRP products also got the inspection of Shenzhen City Product Quality Supervision and Inspection Bureau.
Its representative Fiberglass products are as follows:
(I) Our carbon paddles include:Carbon Fiber Stand up paddles,Carbon fiber paddles,Stand up paddle paddleboards, Paddles Grip/Shaft/Blade(paddles accessories),Fiberglass paddles,Surf Paddles,Carbon Fibre tubes,Dragon Paddles,canoe paddles,kayak paddle.
(II) Our Carbon Fiber products are widely used in a variety of areas like: aviation, spaceflight,sports equipment, medical equipment,buildings,reinforce engineering,auto industry, electronic products, hardware and jewelry. Our mainly products are: Carbon Fiber Sheets,Carbon ornament, Carbon fiber computer,Carbon fiber Shoes,Carbon fiber Watch shell ,Carbon Fiber mobile telephone,Carbon fiber Modle accessories,Carbon fiber accessories for Auto/Motorcycle ,Carbon fiber cover of tool box,Carbon fiber hood,Carbon fiber mudguard for Motorcycle
(III) Our Custom Profiles include Fiberglass round tubes, square tubes, Carbon Fiber tube, Fiberglass Winding Tube, Decoration Tube channels, Fiberglass plant & tree stakes, Fiberglass Flag, I-shapes, rect. tubes, leg angles, ladder rails, cooling tower fiberglass structures and panels, grating, plate-form, stair and handrail system, highway anti-dazzle board and guardrails, pultruded cable housing, tent poles, bridge enclosure system, antenna Enclosure, reefer container components and custom pultrusion.
(IV) Our Fiberglass radome used for GSM、CDMA and 3D antenna base station in Mobile Telecommunication includes all kinds of all-direction and orient-direction radome, pultruded radome and hand lay-up radome, decoration antennas.
(V) Our Fiberglass cable tray includes FRP cable tray and pultrusion cable tray, Fiberglass gratings and panels includes molded FRP grating, pultruded FRP grating, ditch covering grating, FRP rail.
(VI) Our Fiberglass hand lay-up products: fiberglass protecting shell, FRP body kits, hardbags of motorbikes, fiberglass toolbox, fiber grinding slice, fiberglass lighting lamp, fiberglass flower pot, fiberglass recycle box.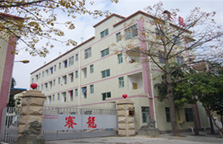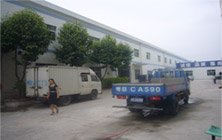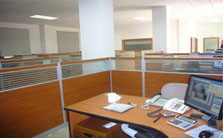 Office Building Workshop Office